CBD oil and drug testing bring up a lot of questions. If you are considering using or are using CBD Oil products, you might want to know how it could affect a drug test. Even a trip to the emergency room might include a drug test. And some employers still routinely use drug testing. However, it is interesting that New York will bar drug testing from employer screenings in May 2020. Even though hemp cannabis is legal in the US (and UK), some types of CBD Oil might have a small amount of THC in it (the part that makes you feel 'high'). We'll get into the details about CBD oil and drug testing below. The purpose here is not to alarm anyone. It's just to create awareness of the different types of CBD products. Using CBD Oil doesn't necessarily mean you could fail a drug test, but you need to know
what to look for in products
and be aware of how each might affect a drug test. One of the chemicals that a
drug test
is looking for is
THC
. CBD itself doesn't come up at all.
They don't test for CBD
.
Related Article: CBD Oil for Brain Health
Types of CBD Oil
As a refresher from the above article, here are the different forms of CBD, which can be sold as pure oil, edibles, lotions, and other personal care products:
CBD Isolate is a purified form of cannabidiol with only the CBD and not all the other beneficial phytocannabinoids. No THC.
Full-Spectrum CBD oil contains the full spectrum of cannabinoids and terpenoids, giving you all the benefits of the entire plant. This has trace amounts of THC (under 0.3%).
Broad-Spectrum CBD oil is full-spectrum CBD oil with the THC removed. It's said it isn't as effective as full-spectrum CBD oil. No THC.
If you're concerned about drug testing or it coming up in the emergency room, you're safe with the CBD Isolate or Broad-Spectrum CBD oils.
CBD Isolate
is only CBD and none of the other phytocannabinoids, including THC.
Broad-Spectrum
CBD oils have the THC removed but retain many of the other phytocannabinoids. And of course,
Full-Spectrum has it all
(but must have under 0.3% THC). But frankly, as you may have read in the above article, the best health benefits come from Full-Spectrum CBD Oil. There are over 100 phytocannabinoids in cannabis. They each have health benefits. I highly recommend you read
CBD Oil for Brain Health
to gain a full understanding of the health benefits of CBD Oil, in all its forms.
CBD Oil and Drug Testing Facts
It's great to have choices so you can use the form that's best for your needs. Lisa Gill of Consumer Reports (2019) states that a drug test will never have a false positive in which it confuses THC for CBD.
CBD will never test positive
for drug use by itself. No matter which forms you use or try, just make sure you inform your doctor other health professionals that you're using CBD Oil and the type. Especially if you're taking other medications. You need to know that if you use Full-Spectrum CBD with the trace amount of THC in it, the
THC levels do stay in your body
for a period of time
. How long it stays depends on the strength of THC and the quantity you use. With that in mind, it can build up over time, until it's finally released from the body. For a hard-core marijuana user, it can stay in the body for up to 30 days.
Sources Matter
This matters because there have been companies who mislabel their products because the product wasn't tested. There have been cases where much more THC was in the CBD oil than claimed on the bottle. What matters for you is that the company you buy your CBD Oil products from
does independent laboratory testin
g and can provide a
Certificate of Analysis (COA)
. This will show you the exact amount of not only CBD, but also THC, in the product you are purchasing. This is a great way to be in control and knowledgeable about what you are using. I want you to know I have screened all the CBD companies that I feature here at mywellbrain and they all have COA's on file on their websites. You can rest assured that these are reputable companies with quality products. And they each have different types of CBD oil to suit your needs. VitaHempOil has tinctures, vegan gummies and topicals. They have both Isolates and Full-Spectrum CBD products.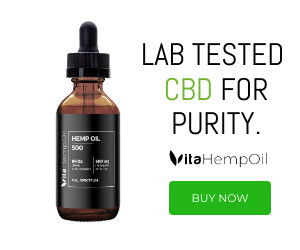 Vital Plan Select is developed by Dr. Bill Rawls and has very high quality Full-Spectrum products. He oversees every step from the growing to the production. Feel good about your hemp source.
I hope you learned more about CBD Oil and drug testing and feel confident in trying CBD Oil. It's a great way to help many brain issues and also chronic pain.  Read my 
CBD Oil for Brain Health
 article and see if CBD can change your life. Don't wait to try it from one of these reputable companies. And remember, CBD alone doesn't show in a drug test. Only THC. So just be careful of where you buy it, make sure they tested it and you'll be fine. If you have any questions, comments, or experience with this, Please share your comments below. Thank you! References: Gill, L. (2019). Can You Take CBD and Pass a Drug Test? Retrieved 1/1/2020 from https://www.consumerreports.org/cbd/can-you-take-cbd-and-pass-a-drug-test/