It has long been known that exercise improves brain function and helps prevent cognitive decline, especially in older people. Specifically, aerobic exercise helps people function better, both physically and mentally. And it helps to regulate mood and behavior. We can use all the help we can get for our mood right now, right? As we're staying home more, it's a bit more difficult to get some aerobic (or any) exercise in. I want to share the best low impact exercise equipment you can use at home. And at the end, you'll find a video on Yoga for Beginners.
I'm sure you know that low impact exercise means low impact on your feet, knees, hips so you have less risk of injury, short or long term. Some good examples are stationary bikes, trampolines, yoga, dancing, resistance training and weights, situps, and pushups. Jogging or jumping on a hard surface is high impact on your feet and joints.
There are a lot of reasons to stay active. In reviewing some research, I found an article called Physical Activity and Brain Health by Italian researchers, Di Liegro, C., Schiera, G., Prioa, P., and Di Liegro, I.  (2019). In it, they describe a lot of research on exercise and brain health. And it's not just brain health exercise effects, it's total health. Exercise affects insulin resistance positively, it actually increases BDNF (brain-derived neurotrophic factor), important for protecting cells in the brain, and even affects longevity.
Related Article: Does Exercise Help Brain Function?
The US Department of Health and Human Services came out with some guidelines in 2018, called the Physical Activity Guidelines for Americans. Here is a graphic to illustrate them:
I know of some great equipment you can have delivered so you can get started right away. Here are what I think are the best for at home use.
Bowflex Fitness Equipment
Bowflex has some really excellent exercise equipment. And they even offer financing and assembly by certified technicians, out in your garage or front step. I think the C6 stationary bike is a really great deal, compared to some of the equipment out there. I did a great deal of research to bring you the best. Click the bike to see more and financing options.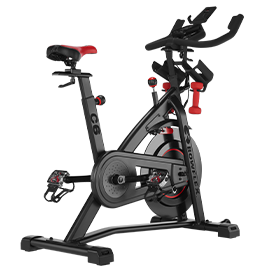 Related Article: Best Exercises for Brain Health
Total Gym
Total Gym is a full gym in one. You may have seen this on infomercials with Chuck Norris and Christie Brinkley. Now you can get it direct. They have multiple setups and prices to fit your needs. There are 12 resistance levels from beginner to more advanced. One thing to note, it is shipped fully assembled, so you don't have to hassle putting it together. It's ready to go! Check it out.
Jumpsport 
Jumpsport has fantastic fitness trampolines, also called rebounders. And if you've looked around at other fitness equipment, you'll really understand what a great deal these are. This is a great way to get some low impact aerobic activity in at home. There is a foldable model so it's easy to store. 🙂 Handles are available if you feel a little unstable. 
I use a rebounder to lightly jog or dance to music. Since it bounces, you're not hurting your knees, ankles, or hips like on a hard surface. And it's fun!
Walmart Has Exercise Equipment
Walmart has all kinds of exercise equipment that's very affordable. Here is an under desk exercise bike. The ratings are really good especially considering the low price. Exercise while you work! It's kind of a passive way to be active. 🙂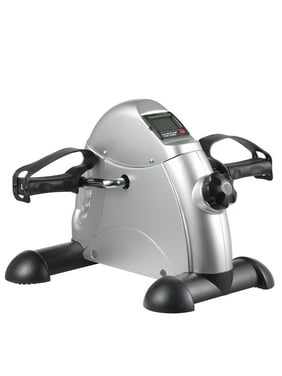 I also love these exercise bands. An inexpensive way to get some strength and resistance training.
Yoga and Exercise Mat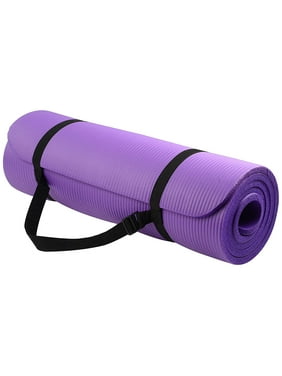 If you haven't yet, I hope you add some fitness to your stay-at-home routine. The equipment featured here just shows you can still get great exercise while staying at home. You'll feel so much better and get healthier in the process. And you don't have to spend a fortune either.
Yoga Video
Here's a great instruction video for the true beginner of Yoga. Enjoy!
Thanks for reading today. If you have any questions or comments, please leave them in the Comments section below.
References:
Di Liegro CM, Schiera G, Proia P, Di Liegro I. Physical Activity and Brain Health. Genes (Basel). 2019;10(9):720. Published 2019 Sep 17. doi:10.3390/genes10090720 Physical Activity and Brain Health – PubMed (nih.gov)
Get Updates!
Sign up for email notifications when there are new articles on MyWellBrain!